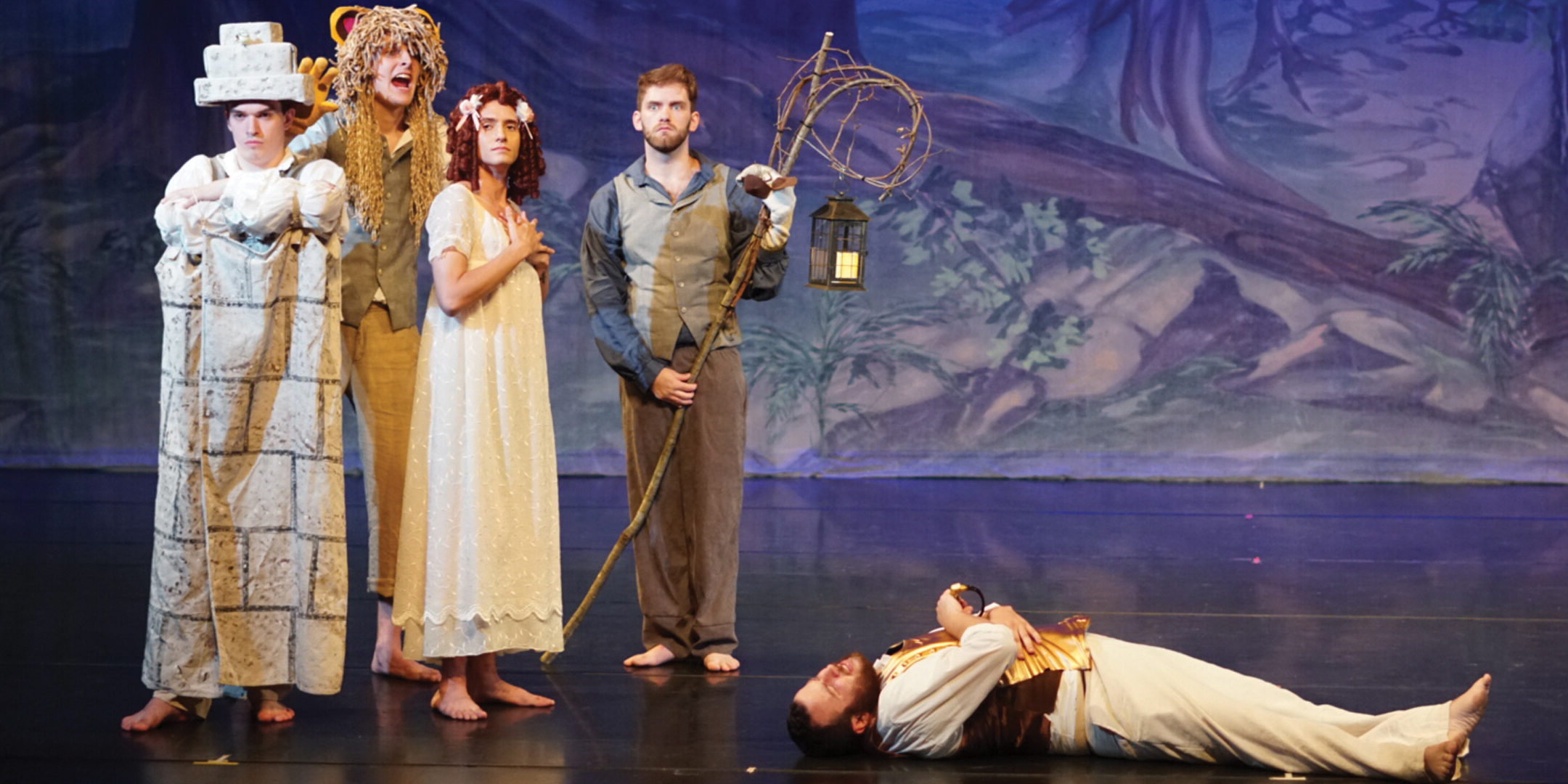 The Catskill Mountain Foundation's production of A Midsummer Night's Dream returns to the Orpheum Performing Arts Center in Tannersville from August 11-13, 2023. Now in its fourth year, this beloved production of the Orpheum Dance Program will see some major upgrades, with a new collaboration with the acclaimed Aquila Theatre, and an expanded collaboration with the Joffrey Ballet School of New York. Students from the Orpheum Dance Program's Community Dance Class, alongside other local children, will be given the opportunity to appear on stage with professional actors and dancers in a fresh, new program filled with new scenes and updated choreography in a production that will enchant audiences young and old.
Set loosely on Shakespeare's iconic play with a gorgeous score by Mendelssohn, this production, created by Victoria Rinaldi, is a seamless blend of spoken word and dance featuring professional actors and dancers sharing the stage with children of the community. From the complexity of the story to the wild costume changes, the production has come a long way over the years, but still maintains the attention to detail and excellence that has become a hallmark of all of Victoria's productions for the Orpheum Dance Program. That attention to detail comes from Victoria's many years of experience as a dancer at the Metropolitan Opera Ballet. "Every single person on stage matters," she said. "No one is standing around taking up space. It's stagecraft. You've done it all: lights, orchestra, singers, conductor to costumes."
A New Collaboration with Aquila Theatre
After two years of using the same director for the spoken word scenes, Victoria felt that some updates to the story were needed. From her days with the Metropolitan, Victoria was acquainted with Desiree Sanchez, Artistic Director of Aquila Theatre, one of the foremost producers of classical theater in the United States. "Desiree was just starting out at the Metropolitan when I was approaching the end of my career there," said Victoria. "In fact, she was my understudy. I called her one day and told her about our production of Midsummer … I was floored when she said, 'I'm interested. How can we make this happen?'" Desiree quickly came up to Tannersville to visit the Orpheum as well as Victoria's Community Class—"she was so impressed with the quality of the dancers I teach up here"–and a collaboration was born.
Both Victoria and Desiree are excited about this new collaboration. They will work together to rewrite the script, better integrating children and dancers into the spoken word scenes and changing some of the segues from scene to scene. As the Artistic Director of Aquila Theatre, Desiree is keenly interested in collaborations with other presenting companies and merging movement into theater. "Aquila Theatre is a fantastic theatre company, and the actors are very physical, which is perfect for this production," said Victoria. Desiree continued, "A Midsummer Night's Dream is beautiful. It really speaks to the world we live in right now."
The Dance Roles
Providing local children the opportunity to appear on stage alongside professional dancers is one of the missions of the Orpheum Dance Program. "Our kids have the opportunity to appear on stage at 10 official performances a year," said Victoria. "No other large program offers the same stage time for their students as ours does."
Professional dancers relish the opportunity to appear in Orpheum Dance Program productions as well. Dawn Gierling Milatin and Erez Milatin will travel from their home in Israel to reprise their roles as Titania and Oberon, Queen and King of the Fairies. "Last year, they both remarked that dancing in this production of Midsummer was one of the best experiences they've had," said Victoria, "and they are thrilled to return." Their pas de deux, an innovative and breathtaking piece that is one of the highlights of the production, will once again be choreographed by Tony-nominated Margo Sappington, who teaches contemporary dance at the Joffrey Ballet School New York. "Margo's specialty is pas de deux," said Victoria, "and we're fortunate to have her work with us on this project."
Other major dance roles will be filled by students from Joffrey Ballet School New York. "The quality of dance instruction there is excellent," said Victoria, "and their students are very talented." Alexander Marmolejos Duran, who played Demetrius in last year's production, will return in the role of Lysander. Other roles have yet to be cast, but are chosen personally by Victoria along with Era Jouravlev, the Ballet Trainee Program Director of the Joffrey Ballet School. "We're also happy to announce that we're expanding our collaboration with Joffrey Ballet School, and they will also be joining us in our production of The Nutcracker later this year," said Victoria.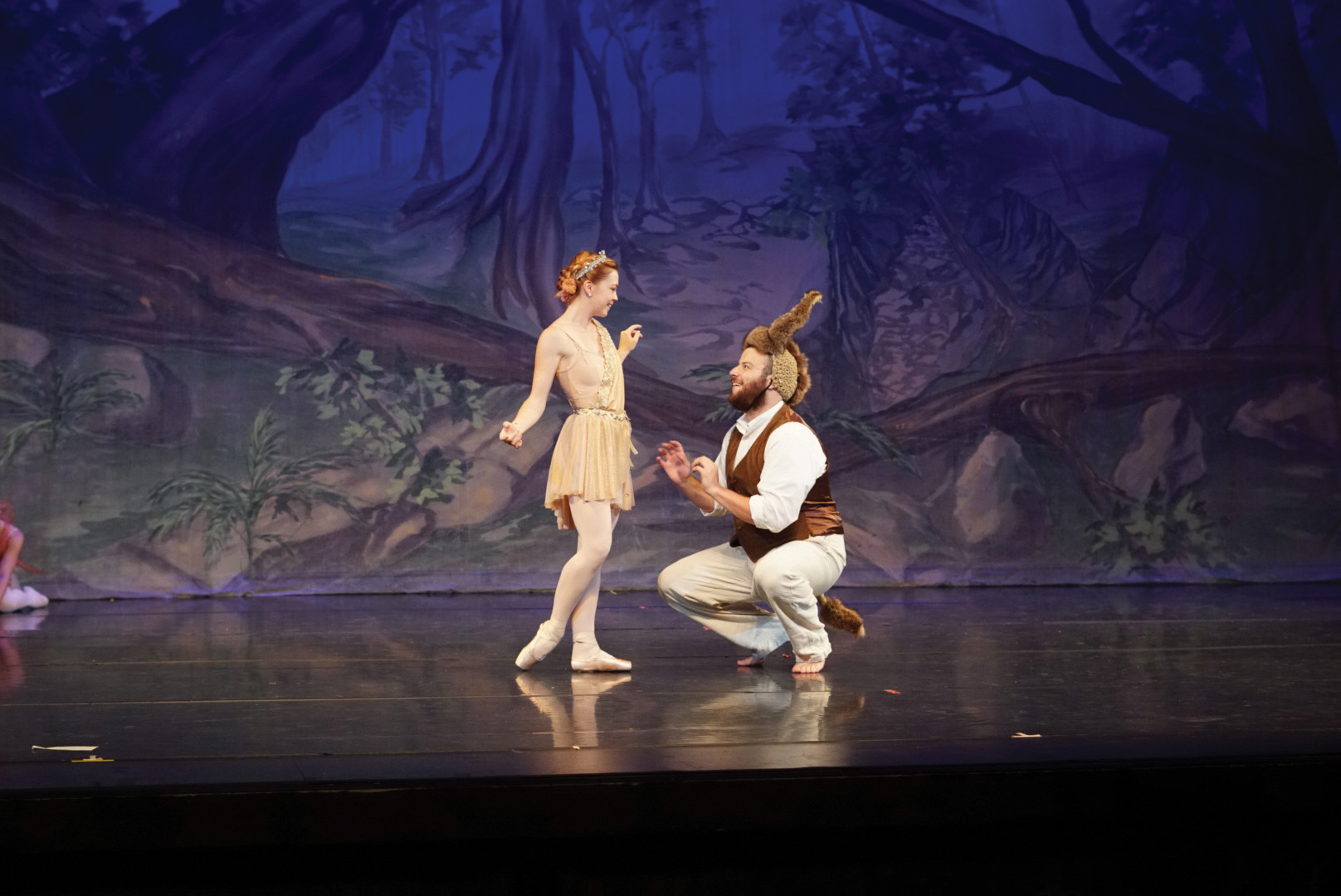 About the Orpheum Dance Program
The beginnings of the Orpheum Dance Program lay with a production of The Nutcracker in 2015. This first production was Victoria's way of giving thanks to the Catskill Mountain Foundation, who had been generously supplying her with practice and training space for her advanced dance students. That first production cast her students alongside local children, who eventually expressed an interest in learning to dance like the principals they saw on stage. Victoria said, "if it's our production of The Nutcracker, I wanted to be the one to teach them." There has been a production of The Nutcracker every year since 2015, including a virtual presentation in 2020 and one with masks in 2021. A second production, A Midsummer Night's Dream, was added in 2019.
Local children are so important to every production that Victoria does, and her talent lies in training local talent to be precise, but not to lose those child-like qualities that make them especially charming in roles like the mischievous fairies and elves that populate the forest in Midsummer.
About Aquila Theatre Company
Aquila Theatre Company was founded by Peter Meineck in 1991 with a production of Aeschylus' Agamemnon at the Bridge Lane Theatre in London before touring in the United States to a few universities. The company, along with its founder, moved to the United States in 1994, and in 1998, Aquila Theatre became a U.S.-based non-profit theatre company. It went on to build up an extensive international touring circuit while becoming an established part of the New York City theater scene with its productions of Iliad: Book One at the Clark Studio at Lincoln Center, followed by long-running Off-Broadway productions of Comedy of Errors and Much Ado About Nothing. Aquila has also had the pleasure of working with the acclaimed Olympia Dukakis and Louis Zorich in its 2004 production of Agamemnon.
Aquila is now one of the foremost producers of classical theater in the United States, visiting 50 – 60 American cities per year with innovative classical productions, workshops, and educational programming, and is under the Artistic Directorship of Desiree Sanchez since 2012. The company has been awarded numerous grants from the National Endowment for the Arts, The National Endowment for the Humanities, from which it received a Chairman's Special Award, the New York State Councils for the Arts and Humanities, and the New York City Department of Cultural Affairs. Aquila has performed at the White House under the Bush and Obama administrations and has performed for the U.S Supreme Court and for the National Council on the Arts. Aquila was also recently invited by Lin-Manuel Miranda to perform at the U.S. Capitol in support of the National Endowment for the Humanities, for its groundbreaking applied theatre and humanities program: The Warrior Chorus.
For more information, visit aquilatheatre.com.
About Joffrey Ballet School New York
The mission of the Joffrey Ballet School New York is to transform passionate dance students into strong, versatile, open-minded professional artists able to work inclusively, collaborate positively and evolve fluidly in a fast-changing diverse society.
Robert Joffrey and Gerald Arpino founded the Joffrey Ballet School in 1953. In more than sixty years of existence, the Joffrey Ballet School has remained on the forefront of American dance education. Graduates of the School have gone on to dance for major ballet companies, as well as for numerous modern and contemporary companies, both in the United States and abroad. The Joffrey Ballet School programming includes intensive pre-professional training, after-school programs, summer intensives in a variety of genres and open classes for enthusiast and professionals.
The Joffrey Ballet School's renowned Trainee program offers a well-rounded pre-professional curriculum consisting of two tracks (Ballet and Jazz & Contemporary Dance) for dancers ages 13 to 25. Depending on the track, genres of study include classical and contemporary ballet, contemporary dance, modern, character, choreography, dance history, music, hip-hop Pilates, street jazz, contact improv and more. Guest faculty teach special workshops that augment the curriculum, and performance opportunities abound throughout the year.
For more information, visit joffreyballetschool.com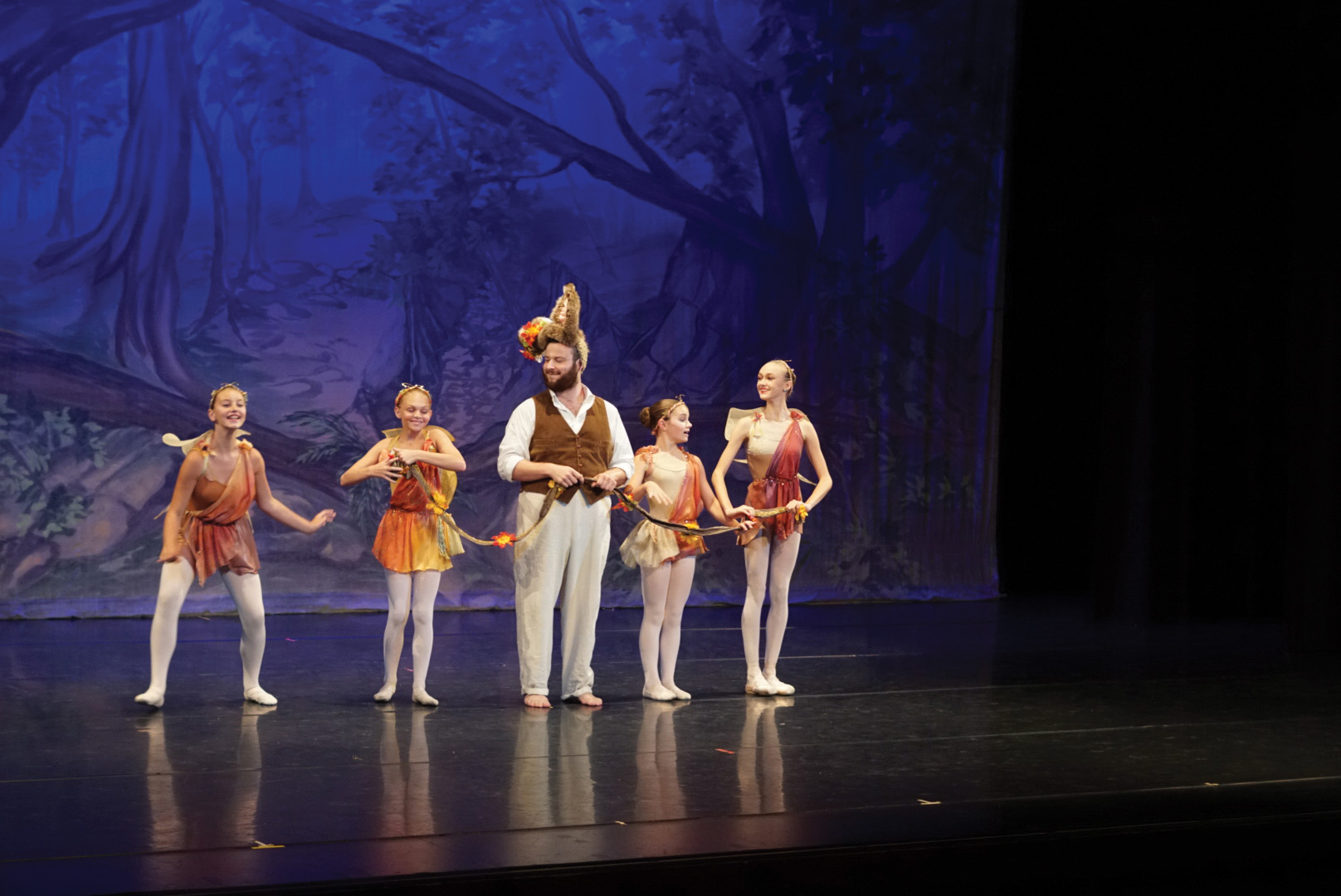 About the Play
The evening begins in an enchanted forest with the awakening of fairies, when their domain is invaded by a group of unruly tradesmen—known as the rude mechanicals of the play—preparing a play to honor Theseus, the duke of Athens, on his wedding day. The fairies and one of the tradesmen are joined by two sets of lovers who fall victim to a magic spell gone awry. The evening ends with a triple wedding and a festive celebration.
In past Orpheum Dance Program productions of Midsummer, there was very little interaction between the dancers and the actors … in this new version, Victoria plans to change that: "The rude mechanicals are always given short shrift," she said. "Yet their scenes are so funny and charming. In all of my productions for the Orpheum Dance Program, one of my first priorities is to make sure that the children are seen, so this year I plan to have more interaction between the dancers and the actors, so there's not such a hard line between the two."
With new collaborations, fresh choreography, and experienced and new talent, this year's production on A Midsummer Night's Dream promises to be an enchanting evening of spoken word and dance, a reminder that while the true course of love may never run smooth, in the end all's well that ends well.